Sometimes I walk down the street just to stroll. I live in Brooklyn, NY so I don't have much space in the apartment so I like to go out and just get some fresh air. When the weather is good, I sometimes go to Marine Park. It it something like Central Park in Manhattan, but on a much smaller scale in Brooklyn.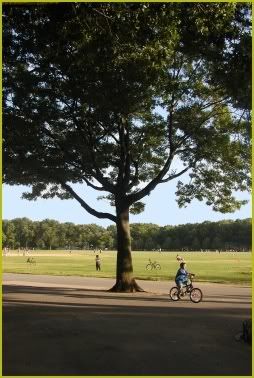 Over the summer I must have been there at least 50 times. I used to go a couple of times a week just to get my head straight and think.
One day I saw this father and son playing some baseball. The kid must have been about five years old. I was sitting on the bench watching them thinking how nice it is to spend some quality time with your children. They were playing for about 20 minutes when all of a sudden I heard the father screaming at his son how "he's so stupid for missing the ball", how "he's a dumb kid", and "how he doesn't know how to play". I was in shock. I wanted to go over and scream at the father and defend the kid, but truthfully I was too scared myself. The father looked like a monster screaming like that.
The father left to go to the water fountain about 20 feet away. The kid just stood there not knowing what to do. Finally the father called the kid over to have a drink. The kid smiled. He started walking over to the water fountain. The father was walking back, patted the kids hair. I guess he was trying to make everything okay with his son again. The kid got to the water fountain, but there was another kid there before him that was drinking. What I saw next shocked me. The kid pushed the boy away, and started screaming at him. While I couldn't hear exactly what one kid was screaming to the other, but I did see that kid exactly mimicking his father.
I was very distraught with the situation but I thought it was a one time occurance. Then I came by this extremely powerful video a few days ago, and decided I had to write this post.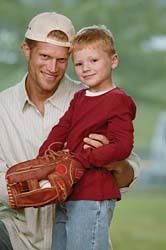 Remember what you do in front of your kids; THEY WILL MIMIC AND FOLLOW EVERYTHING! You may think they are not watching, or they really don't understand what you are doing, BUT THEY DO! It is not fair for these kids to get this kind of education. Please be careful in front of your kids and watch your every move in front of them.